Boat Rentals, Pontoon Rentals and 9.9HP Motors and Fun Stuff

DAILY and WEEKLY PONTOON RENTALS,
LITTLE ST. GERMAN LAK E! 

Book now for our best rates of the summer.
Early-bird pricing expires on May 1. 



Pontoon rentals can be full- or multi-day or weekly. In the summer  we can occasionally accommodate a 1/2 day Sunday rental from 9am to 2pm for $249. Full day rentals are from $349.. Weekly rentals on LSG are priced at $1449 for the week delivered to your dock. 


NEW Custom 2022/23 Pontoons! 
6 to choose from: Black, Red, Green and Blue! 

25', capacity 2350 pounds, max 14 people 

90HP  4  Stroke Suzuki motors
Captain seat, 4 fishing seats, 4 leisure bench seats, live-well, Helix 500 fish finder, built in swim ladder, 2 anchors, canopy, extra wide floor plan with 2 mid-boat cross over entry exit doors along with both front and back entry doors. 


EARlY-BIRD PRICING:
Weekly $1499 delivered to your dock on Little St. Germain Lake. 
Rentals less than 5 days on Little St. Germain Lake only. 
    1 day  $329 Midweek,  $379 weekends and holidays
    2 days   $658  
    3 days   $899
    4 days $1099  
    5 days $1359  
    6 and 7 days: $1499

If renting less than 5 days, you will pick up and return the pontoon from our docks at Cedaroma Lodge.
Lakes we deliver to with a minimum of a 5 day rental and a $100 delivery fee include: Delivery to boat launch
Big St. Germain Lake 

Lost Lake

Found Lake

Big and Little Arbor Vitae

Alma and Moon Lakes

Pickerel off Highway J

Gilmore
Pontoons for Sale:  The Red, The Peach, and Queen Mary 
It was such fun checking out the new pontoons to people last summer. Everything working and shiny with all the features and buttons in the same place, nice and clean, optimized for fishing and leisure cruising... So we bought 3 more of the same for 2023! This leaves us with our older inventory to sell. Check out these options: 
The Red: A 1996 classic Premier Horizon 20 foot pontoon with with original seating, canopy, carpeting and even a fresh water sink! This boat has a changing station, swim ladder and a truly fun feature: the L-Bench can lay down into a bed. Very art-deco in it's styling! Max people 8. Weight max to follow.  This boat was garaged for most of it's life. Now sporting a new in 2021 Suzuki 70HP motor, this boat is a joy to cruise in or fish from with easy maneuverability and well thought out functional spacing. $12,900,. Available in September.  
The Peach: A 24 foot 2002 Palm Beach with a 2020 Suzuki 70 HP motor. A really cool and simple pontoon. The all-bench seating was newly upholstered in 2020 and new vinyl flooring installed the same year. In 2022 we replaced the canopy & frame. Lots of space for people, fishing poles and toys! $14,550. Available in August
The Queen Mary: A 2004 Misty Harbor with 4 funky fishing seats, an L shaped bench seat, captains chair, changing/storage room, live well, fish finder and a 2017 Yamaha 75HP motor. $9950, For sale now. 

The Lounge: Sold Summer 2022

All Pontoons come with live well, swim ladder, canopy, recent year motor, 8 life jackets, fish finder, oar, an anchor, cushion, canopy, two bumpers and some with working radios! We an deliver for a small fee within an hour of St. Germain.
All of our pontoon boats are available to rent on most area lakes
We can deliver to your lake in the St. Germain area when you are booking for a minimum of 5 days. 
The rate is our home base price, $1449, plus a $100 delivery fee. 
---------------------------------------------------------------------
Fishing Boat Outboard Motors
All 2017 Mercury 9.9HP 4 stroke motors, comes with one anchor. Pay only for gas used
Full Day $69 (up to 10 hours from our dock)
Week $249 you pick up from our docks at Cedaroma Lodge. For use only on Little St. Germain Lake.
$199 resort guests weekly. 
Life Vests
2 Adult sizes included with boat. 
---------------------------------------------------------------------

SUP (Stand UP Paddle) Boards, Kayaks, Canoes, Pedal Boats

There are a minimum of 6 SUP boards, 4 kayaks, 2 canoes and a pedal boat available to resort guests.
We have a rental inventory of SUP boards that are used for our YogaPaddler classes that can also be rented by the day, multiple days, weekly or for special outings. www.YogaPaddler.com.
Additional Row Boat
Subject to availability, please inquire in advance. $25/day $100/week
Dockage for your boat
Free in place of using the provided fishing boat
Additional Dockage (beyond your boat)
Extra dockage subject to availability, reserve in advance.  Summer: if available, $25/day $100/week for an inside spot. 
Bicycles
We have at least 6 of various sizes, kids & adults
Free
Horseshoes, Basketball & Volleyball
Free
Board Games, Cards, Books and Puzzles
Free (inquire at the office)  

Hammocks
Each vacation rental home has one and there are 3 set up for the resort and 2 on the Hammock raft.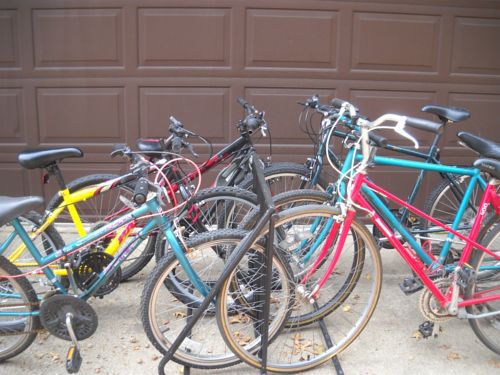 Items provided for free: please be polite and share so everyone has a great vacation!
Here you will find all the Recreation Equipment Rentals, Pontoon boat for rent, Renting boats on Little St Germain lake, free bicycles at our resort, SUP boards, 9.9 hp motor rental, and fishing boats all on Little St Germain Lake and a few boats that we can deliver to Saint Germain area lakes.